It's time to ditch those boring recipes and excite your taste buds this season! From crunchy, loaded salads and speedy stir-fries
to quick and easy bites… you'll be bound to find some new favourites to share with family and friends.
Plus, be sure to head to Westpoint to find all the fresh ingredients and more to create these tasty recipes below!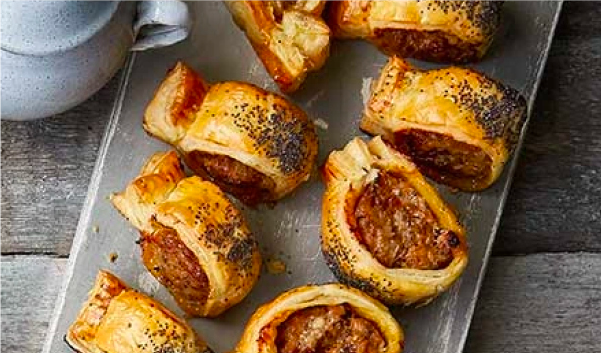 Caramelised Onion & Thyme Sausage Rolls
The perfect picnic snack that everyone will enjoy.
Ingredients
6 Pork Sausages
2 tbsp Caramelised Onion Chutney
1 tsp Wholegrain Mustard
1 tbsp Chopped Thyme
320g Sheet Puff Pastry
1 Beaten Egg
½ tbsp Poppy Seeds
Method
Heat the oven to 200C. Squeeze the meat from the sausages into a bowl and mix with the chutney, mustard and thyme. Unravel the pastry and roll out until one side measures 43cm.
Arrange the sausage meat down the centre of the pastry. Use the egg to brush along the bottom of the pastry. Bring the pastry around the meat, and seal the edges with a fork, then cut into eight. Brush with a little more egg and sprinkle with the poppy seeds. Transfer to a lined baking sheet and cook for 25 mins or until golden.
---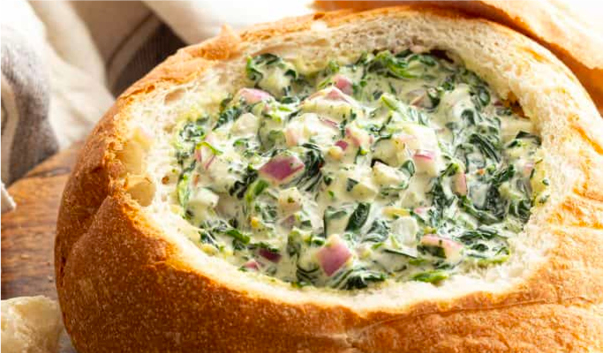 Air Fryer Cob Loaf Dip
Yes, you read that right… Air Fryer Cob Loaf!
Ingredients
150ml Cream
250g Cream Cheese
150ml Sour Cream
150g Grated Cheddar Cheese
30g Parmesan
1-2 tsps Ground Pepper
2 tbs Minced Garlic
250g Diced Bacon
1 Large Diced Onion
1 Large Cob Loaf
Method
Cut top off cob loaf, hollow out the bun, break bread into small pieces. While cooking the filling, put the pieces of bread plus the lid and base of the loaf into the air fryer for 5 mins on 200C.
Cook onion, garlic, pepper and bacon until browned, add cream cheese, stir until smooth, add cream, sour cream and both cheeses. Stir until all mixed together and hot. Pour into pre-toasted base.
Put the filled base in the air fryer (lid off) for 6 mins on 200 to brown the top and finish off the toasting. Depending on size of air fryer, add the bits & lid in for the final minute or two to warm them back up. Serve and enjoy!
---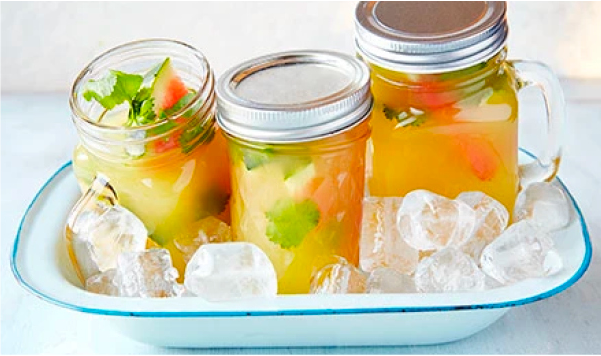 Coconut & Pineapple Cocktail (or Mocktail)
Bound to be a crowd pleaser all Summer long.
Ingredients
300ml Coconut Rum
600ml Pineapple Juice (Not From Concentrate)
150ml Gin
6 Small Chunks Watermelon
12 Coriander Sprigs
6 X 324ml Screw-Top Jam Jars With Lids
Ice Bucket Filled With Ice
Method
Put 50ml coconut rum, 100ml pineapple juice, 25ml Gin and 50ml cold water into each jam jar.
Stir, then garnish each one with a piece of watermelon and a couple of coriander sprigs, squeezing the leaves a little bit first before dropping them into the jars to help release the flavour. Screw on the lids and chill or set in ice buckets until needed – they will keep well for 4–6hrs.
---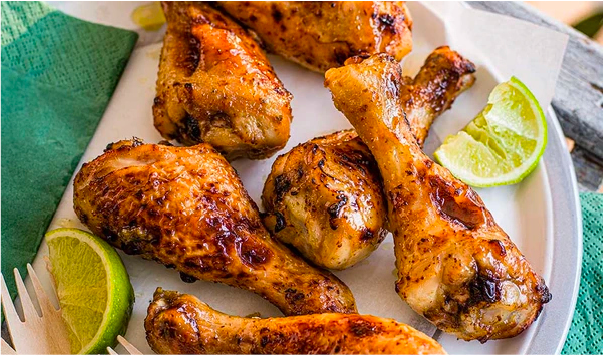 Sticky Lime & Coconut Chicken Drumsticks
Chicken that's worth crossing the road for!
Ingredients
400g Can Coconut Cream
1-2 Tbsp Thai Green Curry Paste (depending on how hot you like it)
1 Lime, Zested and Juiced
3 Tbsp Honey
6 Chicken Drumsticks
Method
Mix the coconut cream, curry paste, lime zest and juice and 1 tbsp honey together in a large bowl, then spoon a quarter of the marinade into a second smaller bowl and set aside. Add the chicken to the large bowl and leave to marinate for at least 2 hrs, or chill for up to 24 hrs.
Heat the oven to 200C and line a baking tray with foil. Arrange the chicken on the tray, and bake for 30 mins, turning the chicken over halfway through.
Mix the remaining honey into the reserved small bowl of marinade. Brush half of this over the chicken, then return to the oven for 10 mins more. Turn the chicken over and brush with the rest of the marinade, then bake for another 10 mins. Serve warm or leave to cool completely before packing into a container for a picnic.
---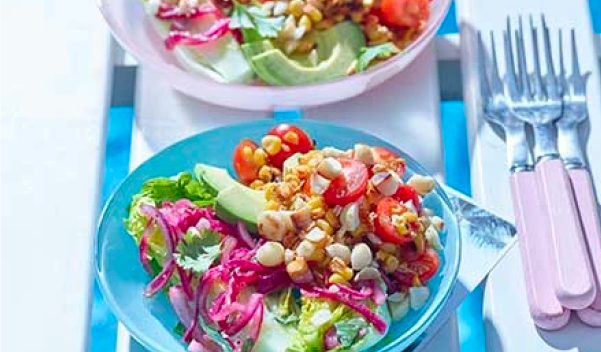 Chipotle Corn Salad
Fresh and full of flavour!
Ingredients
1 Small Red Onion, Thinly Sliced
1 Tbsp Red Wine Vinegar
Pinch Of Sugar
4 Corn Cobs
30g Butter
1 Heaped Tbsp Chipotle Paste
300g Cherry Tomatoes, Halved
3 Tbsp Extra Virgin Olive Oil
1 Lime , Zested And Juiced
Small Bunch Coriander, Roughly Chopped
2 Little Gem Lettuces, Each Cut Into Quarters
50g Macadamia Nuts, Toasted And Roughly Chopped
1 Avocado, Sliced
Method
Mix the red onion with the vinegar, a pinch of salt and the sugar. Set aside.
Bring a large pan of salted water to the boil, add the corn and cook for 4 mins until partly tender, drain then rinse under cold water to cool. Pat dry then, holding the corn upright, slice down the sides of each cob to remove the corn kernels. Discard the core.
Heat the butter in a large frying pan over a high heat until foaming, tip in the corn, chipotle paste and a good pinch of salt. Cook the corn for 6-8 mins until blackened in places – don't stir too often. Remove from the heat and stir in the tomatoes, then set aside.
Stir the oil, lime zest, juice and most of the coriander into the onions to make a dressing. Season to taste, then toss with the lettuce and tip onto a platter. Scatter over the avocado, followed by the chipotle corn mix. Top with the nuts and remaining coriander.
---
Tropical Rocky Road
A twist on the traditional Rocky Road, perfect for Summer.
Ingredients
100g Butter
100g Golden Syrup
200g Dark Chocolate, Chopped
100g Milk Chocolate, Chopped
100g Coconut Nice Biscuits
80g Dried Banana Chips
100g Dried Tropical Fruit, Roughly Chopped
50g Brazil Nuts , Roughly Chopped
50g Mini Marshmallows
50g Desiccated Coconut
1 Ball Stem Ginger, Finely Chopped
Method
Line a 20cm x 20cm baking tin with baking parchment. Put the butter, golden syrup, chocolate and a pinch of salt into a saucepan. Set over a low heat and gently melt, stirring from time to time, until you have a glossy liquid.
Crumble the biscuits and banana chips into a large bowl, leaving some pieces larger than others to create a bumpy texture. Add the dried fruit, nuts, marshmallows, coconut and ginger, and pour over the chocolate mixture. Stir well, ensuring that everything is well coated, then tip into the tin. Use a spoon to press the mixture down and level the surface.
Chill for at least 2 hrs or until firmly set. Cut into 16 squares and pack for a picnic. Store in a tin for up to 3 days.
---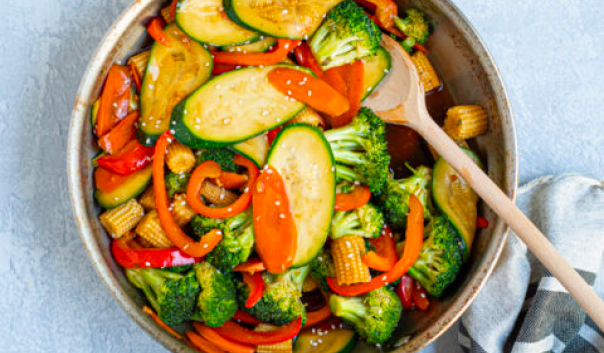 The easiest stir fry!
Ready in just 15 minutes!
Ingredients
1 tablespoon olive oil
1 red capsicum sliced
1 yellow bell pepper sliced
1 cup sugar snap peas
1 cup carrots sliced
1 cup mushrooms sliced
2 cups broccoli
1 cup baby corn
1/2 cup water chestnuts
¼ cup soy sauce
3 garlic cloves minced
3 Tablespoons brown sugar
1 teaspoon sesame oil
1/2 cup chicken broth
1 tablespoon cornstarch
Chopped green onions and sesame seeds for garnish optional
Method
In a wok or large skillet add 1 Tablespoon olive oil over medium high heat. Add capsicum, peas, carrots, mushrooms, broccoli, baby corn, and water chestnuts. Sauté 2-3 minutes until veggies are almost tender.
In a small whisk together soy sauce, garlic, brown sugar, sesame oil, chicken broth, and cornstarch.
Pour over veggies and cook until the sauce has thickened. Garnish with chopped green onions and sesame seeds if desired
Stir the oil, lime zest, juice and most of the coriander into the onions to make a dressing. Season to taste, then toss with the lettuce and tip onto a platter. Scatter over the avocado, followed by the chipotle corn mix. Top with the nuts and remaining coriander.
---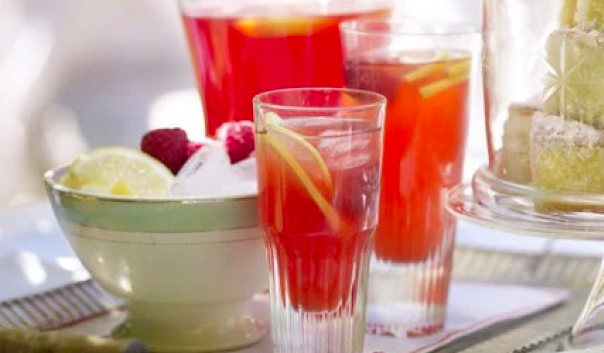 Homemade Pink Lemonade
Feel free to spice it up and mix in your favourite spirit!
Ingredients
8 Lemons, plus Extra Slices to Serve
200g Caster Sugar, plus Extra to Taste
140g Raspberry, plus Extra to Serve
Ice, to Serve
Method
Pare the zest from the lemons with a peeler, removing as little white pith as
possible – cut away any pith you can from the strips.
Juice the lemons and mix the juice, zest, sugar and raspberries with 1.2 litres of boiling water. Let cool, then sieve, pressing through juice with the back of a spoon. Add sugar to taste and chill in jugs. To serve, add a few lemon slices, raspberries and lots of ice.
---
Seen a recipe that takes your fancy? Then grab your picnic blanket or set the outdoor entertaining table and make the most of the sunshine with an array of delicious flavours (don't forget to share your it with us on Facebook and Instagram by tagging Westpoint too). The perfect opportunity to tantilise your taste buds … we can't wait to see your Summer unfold!